Product Description
UppaBaby Vista KLIK Travel System
The UppaBaby Vista KLIK Travel System  includes the Nuna Pipa Klik Baby Capsule and Adaptors to make the ultimate and easiest to use and install travel system for multiple children.
When the Uppababy Vista Klik Travel System is combined with a Nuna Pippa Klik Capsule and Adaptors, It transforms into an incredibly easy to use travel system making life easier when transferring baby to and from the pram to the car! In fact with the Uppababy Vista Klik Travel System – transferring a newborn from the pram to anywhere is easier. You will not have to wake baby to remove your child from the pram – just unclick the capsule and go! Then to transfer or install / remove the capsule base from the car, is even easier – just one click!
The new UppaBaby Vista Klik Travel System boasts many unique features which no other stroller combines in one making it a very practical and long term flexible solution for most parents catering for 2 children either the same age or different ages.
The Uppababy VISTA Klik Travel System is a convertible stroller system that can transport up to three children without growing wider. Designed to adapt as your family grows, the VISTA accommodates your precious cargo from birth through the toddler years.
The VISTA Klik Travel System makes for a perfect single pram as well as accommodating two compatible capsules, two bassinets as well as a toddler and second seat. The 2015 VISTA combinations are almost endless!
The UppaBaby Vista Klik Travel System Package Deal includes the Optional Bassinet
Easy one-step fold – with or without the seat attached ("Vista fold").
Never flat wheels – Patent-pending technology mimics the cushioned ride of an air-filled tire with the lightweight benefit of foam.
Easy to clean, single piece bumper bar.
Expandable seat selections that allow for two rear and forward facing, reclining toddler seat, two compatible infant car seats, two bassinets and countless other combinations.
UPDATED bassinet with zip-in boot cover, ventilated mattress, airy canopy and extendable SPF sunshade.
UPDATED frame design that combines aluminum with magnesium for optimal lightweight, durable performance.
Stands when folded.
One-button telescopic handle height adjustment.
One-handed, multi-position seat recline.
Adjustable canopy for growing child.
Extendable SPF 50+ sunshade.
Additional configuration options allow you to transport up to 3 children without growing wider.
Accommodates PiggyBack Ride-Along Board for a second or third child.
X-Large basket with 13.6kg weight limit.
Dimensions
Unfolded: 67W x 94L x 100H (cm) Folded with seat attached: 67W x 36L x 84H (cm).
Folded without seat attached: 67W x 34L x 84H (cm).
True Weight (includes canopy, wheels + basket).
Frame + Seat: 12.47 kg Frame: 9.07 kg.
Seat: 3.4 kg Bassinet: 3.8 kg.
Bassinet suitable from birth to 3 months. Toddler Seat suitable from 3 months to 23kg.
NEW UPPABaby Vista Henry – Limited Edition is HERE!
Check Out The Video Review of The UppaBaby Vista Stroller Below
UPPaBaby Vista Stroller Colours 2017 Below:
UPPaBaby Vista Stroller Colours 2015 Below:
UppaBaby Vista Included Bassinet
The UPPAbaby bassinette provides a perfectly padded and snug bassinette attachment for your UPPAbaby Vista pram. Transform your Vista into a pram ideal for your newborn with our bassinet accessory. Whether for naps on the go or overnight sleeping the Vista bassinet allows your baby to lie completely flat. Our Vista Bassinet complies with new ASTM standards requiring; (1) the bassinet to be at least 191mm in depth and (2) canopy hinges be engaged by pressing a button to both raise and lower the canopy.
UppaBaby Vista Travel System Includes The Nuna Pipa Klik ISOFIX Baby Capsule
The Nuna Pipa Klik is the first baby capsule in Australia with RIGID Isofix! This is an upgraded version of the Top end of Town Nuna PIPA capsule, making it even more versatile than before.
The PIPA Klik has all the luxury extras and premium protection of the original PIPA that everyone loves with an upgraded swift and even more secure install system thanks to its rigid ISOFIX.
A better capsule for you and your little one– so you can (all) enjoy the ride.
Australia's first rigid ISOFIX compatible capsule.
5 point harness.
Dual bubble level indicators confirm correct angle.
Dream drape attaches with hidden magnets and tucks away in its secret compartment.
UV fabric and mesh combine to create a shield against the elements.
Premium micro knits create a plush and cushy retreat for baby.
Mesh peek-a-boo window for extra visibility for you as a parent.
Pairs perfectly with Nuna and Maxi-Cosi car seat adaptors – This means over 60 + compatible prams available in Australia!
Nuna Pipa Klik Smart design….
side impact protection for ultimate baby safe keeping.
installs to car in less than five seconds.
colored indicators on the rigid ISOFIX ensures a correct and easy installation every time.
steel latches strong and securely connect the base to the car seat.
dual bubble level indicators confirm correct angle.
option to install with a vehicle seat belt.
easy base release buttons make switching between vehicle's a snap.
multi position base to accommodate various vehicle seat angle.
vehicle seat belt lock off.
heavy duty shell is super resilient yet ultra lightweight.
comfy infant insert is removable for growing babies.
removable, full coverage two position & protective UPF 50+ canopy with flip out eyeshade.
aircraft certified to travel everywhere with baby and beyond.
complies with as/nzs standard.
included with purchase | PIPA klik + base
Product specifications
recommended use: birth to approximately 6 months.
product weight including base: 10.22 kg.
Weight: 3.5kg (carrier)
Product Dimensions: 174w x 45 h x 68cm
The Rigid ISOFIX Connectors allow for:
A more secure and firm installation in the car. The colour based locking indicators will go green once the base is correctly locked into place. Coupled with the anchor strap the child restraint will be securely installed and provide greater safety for infants.
Faster installation making a transfer from vehicles easier for busy carers.
Even more error free installation when using ISOFIX to install a child restraint, as there are no additional adjustments required when connecting to the anchorage points. Unlike the SOFT ISOFIX Connectors that require users to adjust strap lengths which in some cases may not tighten sufficiently. The Nuna Pipa Klik Rigid Connectors will indicate green when correctly locked into place giving parents and carers peace of mind.
Watch the Pipa Klik Video Below Now:
UppaBaby Vista Travel Bag – Optional
Keep your pram safe and compact while travelling with the Vista Travel Bag. And as part of the UPPAbaby TravelSafe Program; if you register your travel bag online and your pram incurs any damage during air travel; it's fully covered by UPPAbaby.
The new UPPAbaby Carry-All Parent Organiser is compatible with the UPPAbaby Alta / Cruz / Vista and G-Luxe. You will be able to feel comfortable that you have all your essentials with you wherever you go. Due to the Multiple, easy-access compartments, you can hold anything from drinks to snacks for your child to wipes. As a result of a large zipper pocket, you will be able to store personal items safely. You wont be let down with the UPPAbaby Carry-All Parent Organiser.
Keep snacks close to hand when you're out and about with the Vista Snack Tray. It conveniently snaps into the bumper bar attachment and features formed cup holder and recessed bowl. Designed to fit the UPPAbaby Vista Pram.
Keep your favourite beverage close to hand when you're out and about with the UPPAbaby Cup Holder. With dual-side attachment allowing to attach to either side of the pram handle.
Our beautiful bundle will be snug as a bug in this soft and comfy snug seat for your UPPAbaby Vista pram. Features plush fabric with breathable mesh trim and a head support pillow. Suitable from birth to 9.5kg.
Take baby from car to stroller without disturbing them from their slumber with a UPPAbaby Vista Car Seat Adapter.
Just snap your car seat into this adapter and you're ready to stroll.
There is a maxi cosi Aaptor, Chicco Adaptor and Peg Perago Adaptor – Compatible with all Peg Perego Primo Viaggio SIP infant car seats manufactured after 2006 PLEASE NOTE: This adapter is not compatible with Peg Perego's new Primo Viaggio SIP 4-35.
Now your toddler can tag along for the ride: Introducing the new PiggyBack ride along board. Just attach to the back of your Vista stroller and your older one is ready to roll.  Key Features include: Quick snap on and off, Conveniently lifts out of the way when not in use, Stroller can fold up with PiggyBack attached, Made from natural, eco-friendly wooden material, Non-skid surface prevents slipping. Weight limit: 27kgs
Shield your stroller from messes and spills with the VISTA/ALTA seat liner. Features: Polyester fabric is machine washable Padded liner adds comfort and protection Compatible with all VISTA and CRUZ Models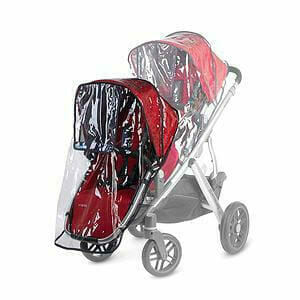 Designed specifically for the 2015 RumbleSeat, this rain shield is a great accessory to have on hand for days when the weather is unpredictable! Features: Custom fit on the RumbleSeat while in use on the VISTA Easy velcro attachments keep rain shield in place Side vents ensure maximum ventilation Made of durable, pthalate free plastic Easy to clean
Expand your VISTA stroller to a double in-line stroller with ease and style. Designed exclusively for 2015 VISTA, the RumbleSeat converts a single stroller to a double in-line stroller in seconds.
The NEW RUMBLE SEAT HAS BEEN UPDATED TO FACE REAR AND FORWARD FACING AND RECLINE ALLOWING FOR COUNTLESS COMFORTABLE CONFIGURATION FOR YOUR CHILDREN.
Features:
Weight capacity from 6 months to 18 kgs

Can be positioned forward and rear facing

Multi-position recline

Numerous configurations possible with Toddler Seat, Bassinet and Compatible Infant Car Seat

Quick "no tools" attachment and removal to VISTA stroller

Older child sits in RumbleSeat with infant closer to parent in infant car seat

Wheels are out of hands' reach – no fender kits required

5-point harness with 3-point height adjustment

No flip when primary child gets out

Removable canopy extends fully to back of primary seat

Removable and washable fabric

Available in all VISTA colors with coordinating silver and carbon frames
Our NEW VISTA 2015 allows for multiple second seat configurations. The Lower Adapter for VISTA 2015 creates more space between your primary and secondary seats.
Features:
Quick, no-tools attachment.

Color coded dot indicators to ensure proper installment.

Stroller folds with the adapters on.

Compatible with VISTA 2015 + Bassinet and Toddler Seat.
Our NEW VISTA 2015 allows for multiple second seat configurations. The Upper Adapter for VISTA 2015 creates more space between your primary and secondary seats.
Features:
Quick, no-tools attachment

Color coded dot indicators to ensure proper installment

Stroller folds with the adapters on

Compatible with VISTA + Bassinet and Toddler Seat