Product Description
Silver Cross Pioneer Travel System
The Silver Cross Pioneer Travel System is a fantastic Pram combined with the Maxi Cosi Citi infant Carrier and adaptors to create a brilliant practical travel system.
The New Silver Cross Pioneer Pram is big, bold, generous and robust. It is a lightweight and durable pram and pushchair system. The Pioneer has been designed for parents on the go.  Furthermore, it never holds you back. Whether you're navigating city streets or planning something even more adventurous. The Silver Cross Pioneer Travel System is a true three-in-one solution, it is suitable from birth, right up until your child starts exploring on their own.
The best part is that by utilising the Maxi Cosi Citi Infant Carrier and Adaptors you will make life easier for you and your baby when moving them from the pram to the car and vice versa!
It includes both a carrycot and a seat unit, allowing you  to use it as a lie-flat pram for your newborn, and also a forward or rearward-facing pushchair when they get a little older.
The deeply padded apron and a UPF 50+ hood can be easily fitted onto the newborn carrycot and the pushchair which means that you can brave the elements with confidence. And because exploring is fun, the Pioneer is available in seven beautiful colours, so you can choose a style that really suits your personality.
The Silver Cross Pioneer is built Tough so that you can carry up to 25Kg! This means that your child will not outgrow it!
Now with a 24 Month Warranty – Now that is a statement in itself about their quality!
The Silver Cross Pioneer Travel System Includes:
Pioneer Chassis: The lightweight chrome plated chassis folds down to an extremely compact size for easy storage regardless of the car you drive. The alloy style wheels carry puncture resistant tyres.

Pioneer Carrycot: The ventilated carrycot has a lovely white liner and mattress, is suitable from birth and is perfect for overnight sleeping.

Pioneer Reversible Seat Unit: The seat unit sits in an elevated position and can be forward or parent facing. It is adjustable with one hand while the baby is still in it.

Pioneer Hood & Apron Set: The 3 position hood is UPF 50+ resistant and removable for easy cleaning. The deep padded apron adds extra warmth and comfort for your baby. Both the hood and apron will be used on the carrycot and pushchair.

It comes with a Multi Position Cup Holder which is detachable for when it is not needed and can be attached to either the left or the right of the frame.

Extra Large Shopping Basket: The generous shopping basket folds flat with the rest of the pram

Maxi Cosi Citi Infant Carrier and Adaptors.
Silver Cross Pioneer Travel System Key Features:
Lightweight pram and pushchair system, suitable from birth to toddler consequently being more practical.

Includes lie flat carrycot which means it will fit in any boot.

Converts to a travel system with the Maxi Cosi Citi Baby Capsule and adaptors making life easier when out and about.

The Maxi Cosi Citi Infant Carrier is the lightest Baby Capsule on the market at only 2.8kg's.

Four-way suspension for exceptional handling.

Multi-position one-hand seat recline.

Super light and compact one piece fold so that you don't have to go to the gym to lift it in and out of the car.

It has an elevated seating position so that baby is closer to you.

Beautiful leatherette and chrome detailed handle for better comfort for mum and dad.

Adjustable calf support with non-slip foot plate.
What we love about the Silver Cross Pioneer Travel System
It includes everything you need from birth to toddler as a result, you don't have to spend any more money down the track.

The oversize wheels and rugged multi-terrain, puncture proof tyres mean that the Pioneer can take any obstacles in its path easily.

The Pioneer hood and apron pack is included as part of the package which increases value for you even further. Separate hood & apron packs can be purchased to customise your pram even further.

The inclusive ventilated carrycot, along with the deeply padded mattress and uses the same hood and apron pack supplied with your Pioneer.

Pioneer converts to the perfect travel system with the Maxi Cosi car seat.
Watch the Silver Cross Pioneer Pram Video Demonstration Below: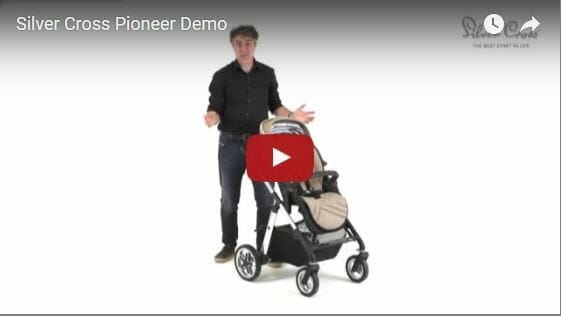 Dimensions:
L90cm W60cm H107cm
Folded Dimensions:
L86.5cm W60cm H33cm
Weight:
Chassis: 7.5kg;
Body: 3.5kg;
Carrycot: 3.5kg
Maxi Cosi Citi Infant Carrier Included in the Silver Cross Pioneer Travel System.
The Maxi Cosi Citi Infant Carrier is a brand new extremely light weight Baby Capsule (Infant Carrier) and fits the Silver Cross Pioneer Travel System Perfectly. The Maxi Cosi Citi Infant Carrier is for newborn babies up to approx 6 months of age.
What's impressive about the Maxi Cosi Citi is that it is the Lightest Infant Carrier in Australia weighing only 2.8Kgs compared to others at around 4.5Kgs!
This has to be one of the best value baby capsules on the market when compared to other brands. When you look at how light weight it is in comparison to all the other capsules on the market as well as the additional safety features, you can't go wrong with the Maxi Cosi Citi.
Maxi Cosi Citi Benefits:
It has a really nice and comfy inlay consequently giving a better fit for a newborn baby. It also has an integrated Sun Canopy rated at UPF 50+ for better UV protection for your baby. For comfort, it also has nice soft padded shoulder harness covers too and the harness is extremely easy to adjust.
In addition, the ergonomic handle on the Maxi Cosi Citi Infant Carrier has been designed to give you even more comfort as a parent whilst carrying baby in the baby capsule. This makes it the perfect companion to the Silver Cross Pioneer Travel System!
The hood on the Maxi Cosi Citi cleverly attaches to the handle and is very easily removed with two clips. This makes for easier access when required!
The side impact protection of the Baby Capsule ensures safe travel of the baby.
The baby capsule is available in 3 great fashionable colours so that it will perfect match the Silver Cross Pioneer Pram included in the Silver Cross Pioneer Travel System.
A common complaint from mums with baby capsules is that they are heavy when you add the weight of a baby. At 2.8Kg's , you will love using the Maxi Cosi Citi Infant Carrier.
The Fabric Cover can be removed from the Infant Carrier so you can simply throw it into the washing machine!
Like all maxi cosi products, this baby capsule comes with a Lifetime Warranty.  All you need to do is register the purchase within 3 months of your purchase.
Accident Exchange Service
In addition to a great lifetime warranty, In the event of a car accident, your Maxi-Cosi child restraint may have unseen damage from crash forces. The Maxi-Cosi Accident Exchange Service offers new for old Maxi-Cosi child restraint replacement in the event of an accident. This gives you peace of mind knowing your child is correctly protected. One less thing to worry about during this stressful time.
Included Silver Cross Maxi Cosi Adaptors
These Maxi-Cosi Car Seat Adaptors are for use with the Wayfarer and Pioneer Pram and Pushchair System.
They attach simply to the chassis to allow you to quickly and easily attach your Maxi-Cosi Pebble, or Cabriofix 0+ car seat.  The push button release system means using your Maxi-Cosi car seat with the Wayfarer couldn't be easier! High quality, hard-wearing black plastic finish.
Silver Cross Pioneer Seat Liner
This luxury seat liner has been specially developed to be compatible with both Wayfarer and Pioneer pushchair seats.
The ergonomically designed seat pad fits effortlessly into the stroller seat, and the 5 point safety harness fits neatly through the reinforced strap apertures to ensure your child is safe and secure.
The seat liner is deep padded and wonderfully comfortable with great looking details, and it's also fully reversible, so you can change it around to suit your mood! This one comes in the black and sand combination, and will look fantastic with any of the bright colours in the Surf 2013 and Wayfarer collections.
Optional Silver Cross Wayfarer/Pioneer/Surf2 Nappy Bag
This practical changing bag coordinates with the Surf 2, Pioneer and Wayfarer pram systems consequently giving you even more storage for your baby's things. The Silver Cross Pioneer gives you a host of pockets, including a handy sealed smart phone pocket and a zipped interior pocket means that you've plenty of secure space while you're out and about.
The pram bag also comes supplied with a padded changing mat, so changing baby on the move is simple and easy. on top of that, there is a thermal bottle holder inside too, so you can keep baby's bottle warm when out and about.