Product Description
Jolly Jumper
The Jolly Jumper will entertain your baby whilst providing aerobic exercise, improving muscle tone, improved pre-walking skills as well as developing basic motor skills. The Jumper door clamp easily attaches to a sturdy door frame.
The Jolly Jumper Port A Stand is an indoor/outdoor portable stand for the Jolly Jumper. Easy to assemble & dismantle it is designed for convenient portability. The Jolly Jumper frees baby from confines of their playpens and cots. Jolly Jumper not included.
The Jolly Jumper Electronic Musical Mat makes musical fun for bouncing babies. The mat features 3 fun musical modes, dance, jungle & silly sounds. The mat can be used in conjunction with the Jolly Jumper or on its own. Musical Mat will play to babies crawling or 1st steps.
This Item is for the Jolly Jumper and Door Clamp. You can change this to the following options below the Add to Cart Button.
Upgrade to the Jolly Jumper and Stand
Upgrade to the Jolly Jumper Elite (incl. Clamp and Musical Mat without Stand)
Add the Jolly Jumper STAND ONLY
Add the Jolly Jumper Musical Mat Only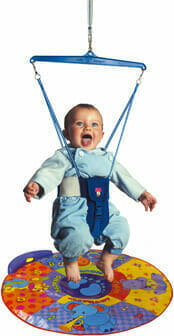 The Jolly Jumper Entertains Baby while:
Providing aerobic exercise

Improving  pre-walking skills

Developing basic motor skills

Encouraging self esteem